Redlands Community College
Higher Education Collaboration Leads to Success for Oklahoma's Veterans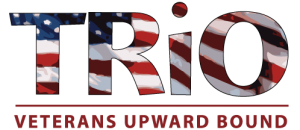 When Andre Colvin first attended a presentation about the Veterans Upward Bound (VUB) program hosted by Redlands Community College, he was interested in returning to college but was unaware of the assistance available to veterans.
"I had attended college previously, but was not successful," he said "However I wasn't aware of programs like VUB back then."
The primary goal of the grant-funded VUB program is to help eligible low-income and first-generation veterans with obtaining a college degree and returning to the workforce. The Redlands VUB team helped Colvin develop a plan of action to successfully return to college. They connected him with financial aid resources and brought him up-to-speed academically through assessments and one-on-one instruction in math. Thanks to the help from the VUB team, Colvin successfully applied for admission to Oklahoma State University-Oklahoma City (OSU-OKC) and began working towards his degree.
"This time I began in the right place, with a solid game plan and, with the help of Veterans Upward Bound, I attribute much of my success to their program," Colvin said.
While the VUB team was able to provide an abundance of resources for Colvin, many of the necessary tools required to support those resources were not available until earlier this year. Redlands VUB has been located at the VA Hospital in Oklahoma City since November 2012. During their first two years, the program operated out of a waiting room that didn't have Internet access, limiting the resources that VUB could provide their veterans.
All of that changed when Redlands reached out to OneNet and the Oklahoma University Health Sciences Center (OUHSC) to form a collaboration to bring Internet access to the new VUB education center. OUHSC provided a fiber connection from the VA Hospital to OneNet, enabling OneNet to offer high-speed Internet services to the VUB program. The collaboration is a great example of how higher education's information technology departments and OneNet are sharing services to ensure student success.
"In higher education, we are extremely fortunate to have OneNet as a partner," Redlands Chief Technology Officer Curtis Brabham said. "Their ability to provide quality high-speed connections to our colleges and universities allows us the ability to provide quality service and education opportunities to students in a variety of educational platforms.
"Without their dedicated network, the cost of delivery for those services would be astronomical for our educational institutions. OneNet provides a great service that helps provide quality learning experiences throughout our state."
The VUB education center now boasts a full-service computer lab that houses six desktop computers and four laptop computers. And according to Brabham, the VUB education center has the fastest Internet connection on the VA Hospital campus.
Reliable connectivity is vital for a majority of the VUB's resources. The VUB team administers career and interest inventories as well as online assessments in subject areas like math, reading and writing. Their top two tutoring programs – ComFit and Tutor.com – both require an Internet connection. Veteran participants also use the education center computers to file for their GI benefits, complete their FASFA, submit college applications and apply for scholarships.
The VA Hospital is not the only location where Redlands provides VUB resources through OneNet. The college partners with Cameron University and the VA Vocational Rehabilitation division in Lawton to offer VUB services to veterans in that area.  Located on the university's campus, the Redlands VUB program operates an education center which includes a full-service computer lab and classroom where veteran participants can take advantage of the high-speed Internet connection OneNet provides that campus. The college and university are now able to work in partnership to reach more veterans needing assistance with returning to college.

"The collaboration between our two-year and four-year institutions is one of the great strengths of Oklahoma's higher education system," Redlands President Jack Bryant said. "Redlands Community College and Cameron University have partnered on many projects over the years, and our primary role in making this connection possible is that ongoing spirit of collaboration to serve the citizens of our great state."
One of the citizens whose success can be attributed to that spirit of collaboration is Andre Colvin. After three semesters at OSU-OKC, Colvin is proud of his 3.67 GPA. Upon completing his associate's degree, he intends to transition right into a bachelors program at the University of Central Oklahoma.  His long-term goal is to attain a master's degree in counseling.
Collaborations between OneNet and the information technology departments of both colleges and universities often contribute to the success of student-veterans like Colvin, who have served our country and now want to move forward in a new career.
"This partnership allows both of our institutions to utilize the Veterans Upward Bound grant to provide special services to the men and women who serve our nation," said Bryant. "Both Redlands and Cameron are proud to assist those men and women who serve our nation."