SURF-MORe-OFFN Award Extends Oklahoma's Research Network to Smaller Campuses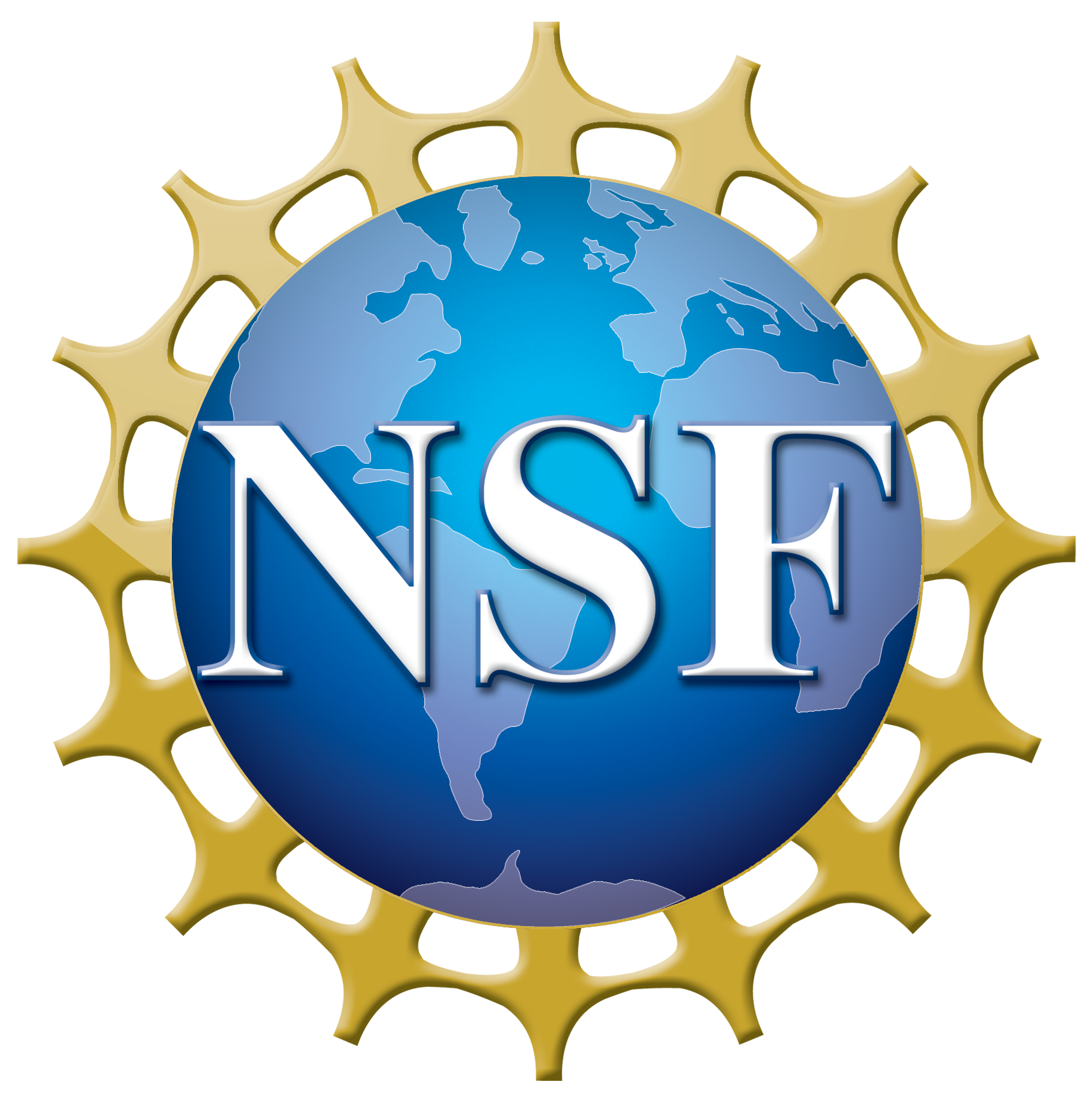 Oklahoma's Science DMZ is growing again. OneNet and the Oklahoma State Regents for Higher Education (OSRHE) received a fourth award to expand the OneOklahoma Friction Free Network (OFFN).
The National Science Foundation (NSF) has awarded OneNet and OSRHE a $1,179,147 Campus Cyberinfrastructure (CC*) grant to connect four colleges and universities and one research center to OFFN. Administered by the NSF's Office of Advanced Cyberinfrastructure, the CC* grant program invests in campus-level cyberinfrastructure improvements for science applications and research projects.
The newest grant, entitled Setting Up Research Foundations Multiple Organization Regional OneOklahoma Friction Free Network (SURF-MORe-OFFN), is a two-year award. Under the terms of this award, Mid-America Christian University (MACU), Northwestern Oklahoma State University (NWOSU), Oklahoma State University Biomedical Imaging Center (OSU-BIC), Rose State College (RSC) and Western Oklahoma State College (WOSC) will become the next group of campuses enabled to harness the expanded capabilities of the OFFN network connection.
The SURF-MORe-OFFN grant will fund an optical fiber build to OSU-BIC and a service upgrade to NWOSU with 10 Gbps connections to OneNet and the OFFN network. MACU and WOSC's connectivity will also increase to 10 Gbps.
Previous NSF CC* Awards
This award marks the sixth expansion of the OFFN network, originally established by an NSF grant in 2013. Collectively, previous NSF CC* awards have connected 21 colleges and universities to OFFN and advanced research computing capabilities across the state. These enhanced network connections have already produced new collaboration opportunities between the large research universities and smaller institutions who had not had access to local computing resources. SURF-MORe-OFFN will continue to build on these successes and ensure that high-level research projects can operate in any institution with an OFFN connection, regardless of size or geography.
"The OFFN connection strengthens collaboration and provides new research and education experiences for faculty and students throughout the state," said Chancellor Allison D. Garrett.
Watch OneNet's OFFN Highlight Video!
OFFN uses a Science DMZ network for maximum functionality. In general, a Science DMZ engineers a portion of a campus network for science applications. According to ESnet, which developed the model, the configuration and security policies of a Science DMZ create an environment tailored to meet high-performance scientific computing needs, including high-volume data transfer, remote experiment control and data visualization.
As Oklahoma's Science DMZ, OFFN is a 10 and 100 Gbps network that provides higher education institutions with a dedicated alternative route to traditional internet pathways.  Among other advantages, this allows researchers to access supercomputing resources across the state and allows for faster data transfer that does not interfere with regular campus internet traffic.
Campus Research and Education Initiatives
Initially, the newly connected campuses will leverage these advanced cyberinfrastructure tools through implementation of the planned research and education initiatives that comprised the grant proposal.  These beginning projects will facilitate knowledge of how to use the system as well as generate additional ideas for future OFFN network initiatives.  Outcomes and impact will be tracked by OneNet to understand the effects on research development on a statewide level. Initial projects include:
Mid-America Christian University
Cybersecurity and Network Management Simulations to Support Academic Coursework
Northwestern Oklahoma State University
Digitizing the Herbarium and sharing through the Texas Oklahoma Research Consortium of Herbaria
Library Archives and Special Collections Digitation Project to Improve Accessibility
Oklahoma State University Biomedical Imaging Center
Storage and Analysis of Biomedical Images to Support Projects such as the HEALthy Brain and Child Development Study and the Center for Integrative Research on Childhood Adversity
Rose State University
Characterizing the Assembly of Modern Terrestrial Ecosystems Using Fossil Teeth
Integrating Data Analytics into GeoScience Research
Western Oklahoma State College
Addressing Nursing Shortage in Rural and Tribal Healthcare
OneNet makes SURF-MORe-OFFN possible by providing the network that connects the colleges and universities. OneNet also provides access to Internet2, a nationwide network for education and research. Internet2 is a 400Gbps network that supports big data movement and collaboration among educators across the nation. OneNet is the only organization in Oklahoma that provides access to Internet2.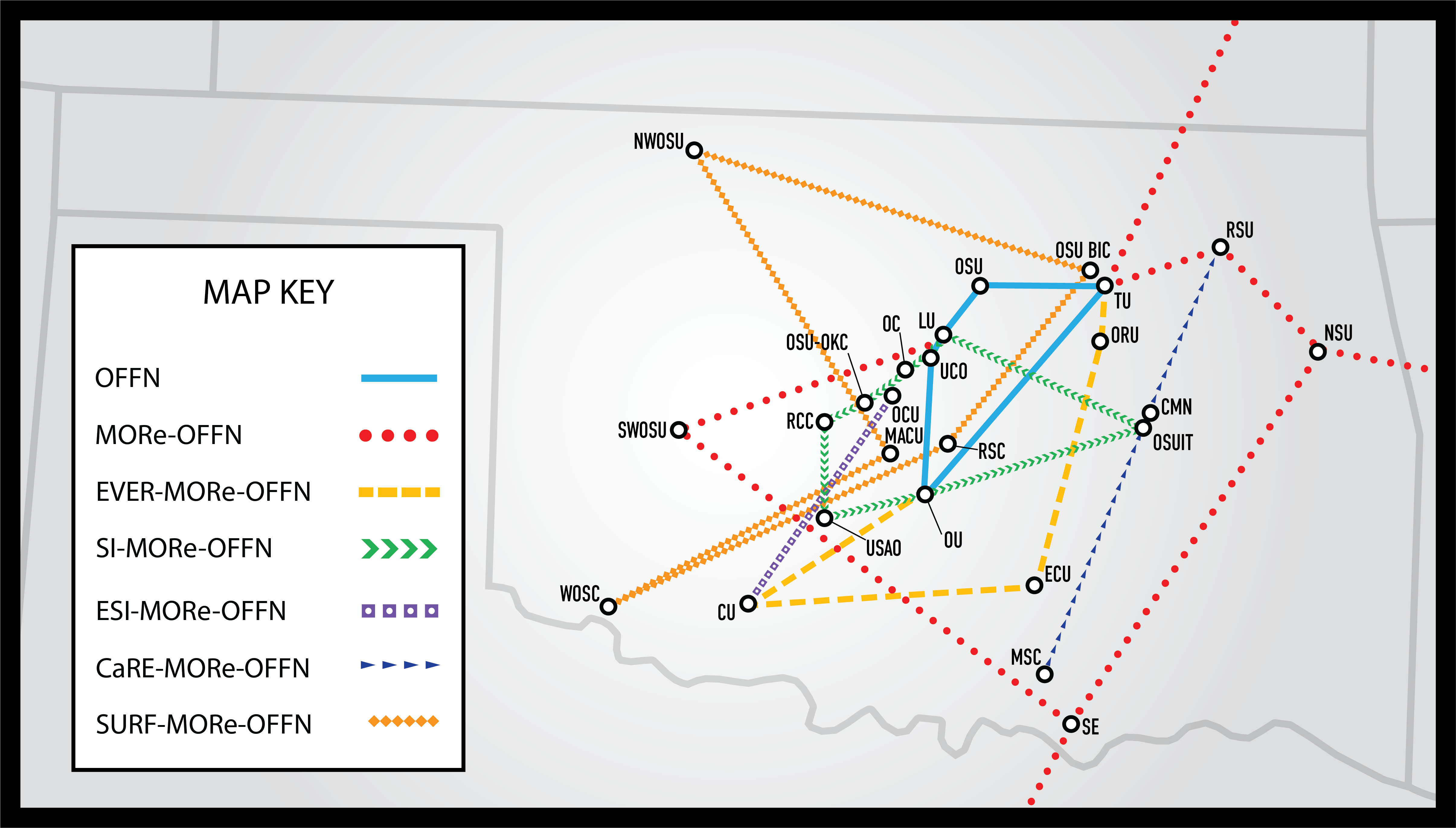 Project Partners & Management
Internet2 provided support for the grant application, along with several important partners who are serving as collaborators for the SURF-MORe-OFFN project, including the University of Oklahoma, The Quilt, Great Plains Network, Engagement and Performance Operations Center (EPOC) and the Great Plains Regional Cyber Team.
The award will be managed by OneNet, the state system of higher education's comprehensive digital communications entity. Brian Burkhart, OneNet's chief technology officer, will serve as principal investigator. Dr. Steven Maier of NWOSU will lead research and education application adoption, and Johnny Corona of RSC will lead campus technology deployment. Sky Pettett of OneNet will manage network technology implementation and training, and April Goode of OneNet will provide planning, communications and coordination services for grant implementation.
"As Oklahoma's research and education network, OneNet has leveraged NSF CC* funding to expand and enhance research computing at our state's colleges and universities," said Burkhart. "This project builds on the success of previous projects and extends OFFN's high-speed connections and data transfer capabilities to our state's smaller institutions. These investments foster science, innovation and new discoveries, enhancing economic growth for Oklahoma."
OneNet and the State Regents plans to continue to build on the success of the OFFN projects by adding institutions to the network, exposing more faculty and students to leading research and cyberinfrastructure practitioners. By creating STEM and cyberinfrastructure opportunities that impact education, OFFN will increase competitiveness to create a stronger and more diverse workforce for Oklahoma.
Read the latest OFFN update.