New Technology Gives Hope to Homebound ORU Students
Life can be pretty unpredictable. Unforeseen events can sideline our goals and dreams leaving us confused and frustrated.
Noel Magwood is no stranger to the chaotic nature of life, but when medical issues prevented her from returning to Oral Roberts University midsemester, she was introduced to a new trial that would save her academic career and dreams—a robot that went to class for her when she physically could not. This futuristic concept is aiming to change the definition of traditional education.
Magwood was the first student in a trial for GEO robots at Oral Roberts University (ORU). She connects to the robot using her phone or computer and is able to move the robot around campus and within a classroom setting using controls from her home in Florida. Once she maneuvers her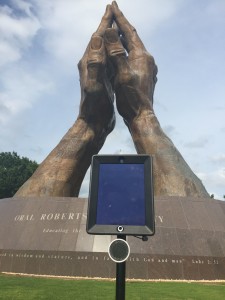 robot into the classroom, she can utilize live two-way audio and video to ask questions and interact with professors and other students in the classroom.
Magwood said that if it were not for GEO, "I would have failed all of my classes and not gone back."
Not only has the robot allowed her to continue her education, but it has also improved it.
"I think she is more engaged than she has ever been," said Tracy Magwood, Noel's mother. "She has confidence to ask things she wouldn't ask in person."
Magwood grew more comfortable with taking initiative in class discussions and interacting with her professors.
"It was remarkable, there were so many options and no limit to my education," Magwood said. "This learning style has tended to my needs more."
ORU began using the robots to meet the needs of students who could not attend college in a traditional sense.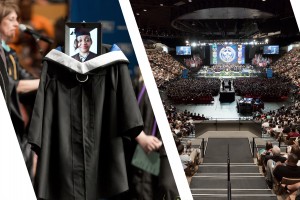 "ORU's mission is to reach into every person's world," said Michael Matthews, ORU's chief information officer. "This means in a technology advanced world we should be looking for the innovation that aligns with this goal. This is a break-through in believing that every global citizen should have the access, privilege and right to be educated."
GEO has now served as a way to connect 10 remote students to campus life. One of them has even graduated using the robot.
GEO opens up immense possibilities for the future of higher education. According to the U.S. Department of Education, nearly half of students who begin a bachelor's degree do not finish it. Many encounter life obstacles that force them to take a break or halt their education completely. Partnerships between universities and technology like that of GEO and ORU are changing the landscape of education by allowing greater flexibility in traditional education.
GEO has given students like Magwood greater potential than ever before.
"It was so encouraging because I saw hope in her eyes again," her mother said. "I cannot thank ORU enough for what they have done for my child."